Introduction
The Demerara Tobacco Company Limited (Demtoco), held its Annual General Meeting this past Tuesday April 2, 2013, kicking off the season of annual general meetings of Guyana's public companies with a December 31 year end. All public companies are of course regulated under the Securities Industry Act and the Companies Act. And, too, they all fall to be taxed under the various tax laws of Guyana. Or do they?
70% of Demtoco's shares are held by British American Tobacco International Holdings (UK) Limited which in turn is a wholly-owned subsidiary of British American Tobacco plc. (BAT), also of the UK. Cheddi Jagan, no slouch for an economist, used to love measuring the power of the international companies by comparing them with the size of Third World countries' economies. He would have hated Guyana's economy's relative size compared with BAT whose turnover across the world is six times the GDP of Guyana.

Performance
Back to the local company audited by Jack A. Alli, Sons and Company. Demtoco's 2012 turnover of $6,769 million was a 14.4% increase over 2011, well above the rate of inflation. The company controls almost 100% of the Guyana market for cigarettes which means that its increased sales came not from taking market share from any other company but from "increased sales performance, changes in the sales mix and an effective pricing strategy".
Page 20 of the company's annual report shows the stable of the company's products as Bristol, described as an "authentic taste that truly represents the Guyanese flavour", Dunhill, the company's premium driver, and Pall Mall, described as an "affordable option representing great quality at an affordable price".

Profitability of the company's products continues to be high – very high. For most companies that operate a normal, full manufacturing and distribution system, a 30% gross profit margin on their products would be more than acceptable. But Demtoco is not your normal company: it brings in its products and sells it in bulk to Beharry's, with negligible distribution costs. Not content with a gross profit margin of 56.5%, the company increased its margin in 2012 to 58.1%.
Profit before tax in 2012 increased by 22.8% while profit after tax increased from $1,352 million to $1,681 million, or by 24.3%, all well above the results of other Guyana companies. With no change in the number of issued shares, Earnings Per Share (EPS), a measure of the profits generated divided by each share, was $71.84 compared with $57.80 in 2011. The other measures of profitability used by accountants and analysts are even more striking: the return on average assets rose from 106.5% to 123.9% while the return on equity rose from 242.5% to 304.2%!
Balance Sheet

Having closed down its plantation, its factory and its outlets and moved into a rather modest rented building, the company has total capital assets of $46.9 million and other assets mainly comprising of cash $480 million, accounts receivable of $366 million, receivables from related parties of $265 million and inventories of $244 million. This evolved structure makes it no more than an agency of its principal, buying its products from the group and passing them to its single customer which markets and distributes the products.
The AGM approved a final dividend of $7.38 per share making total dividend payment of $77.41 per share for 2012, inclusive of a special dividend of $5.57. This represents an increase in the dividend of 33.9% or $19.61 per share over the dividends paid for 2011.
Boast and death
Before lifting the veil of these numbers I want to draw attention to some of the statements in the company's annual report which includes, along with the audited financial statements a report of the directors, disclosures required under the Securities Industry Act, a Chairman's Statement and a Managing Director's Review both of whom are women, a great plus for the company.
The report seems to overdo its sermonizing on the company's high standards of corporate conduct and its commitment to responsible corporate citizenship; boasts of its own voluntary International Marketing Principles and its active role in supporting the local community and charitable projects – a standard line in every country – but with no expenditure disclosures to support those lofty statements in the financial statements. Moving on to even higher ground, the MD asserts that the company's marketing efforts are targeted at adult consumers based on consumer insights.
Of course nowhere does the company, its parent or any of its subsidiaries contribute to consumer insights by informing them of the real and dangerous nature of tobacco.
It is either that it assumes that its adult consumers are already aware of all the scientifically sound findings of respected international groups, or prefers them not to be so "insighted". There is no longer any debate on the killing powers of tobacco.
According to the Centers for Disease Control of the USA tobacco harms nearly every organ of the body; causes many diseases and reduces the health of smokers in general; accounts for an estimated 443,000 deaths, or nearly one of every five deaths, each year in the United States; and causes an estimated 90% of all lung cancer deaths in men and 80% of all lung cancer deaths in women.
Putting it another way, the CDC reckons that more deaths are caused each year by tobacco use than by all deaths from HIV, illegal drug use, alcohol use, motor vehicle injuries, suicides, and murders combined.
And if you think the CDC is some CIA-inspired conspiracy out to besmirch the good name of a United Kingdom company, this is what the highly respected British medical journal the Lancet had to say about tobacco consumption: "Smoking causes 120,000 deaths a year in the UK and 364,000 hospital admissions in England. Smoking-related illness accounts for 8 million consultations and 7 million prescriptions. Half of all smokers die from the habit if they continue to smoke."
No wonder that a look at the lifestyle of the lobbyists and the directors of tobacco companies reveals that very, very few of them smoke – they know it is near-suicidal and want to enjoy the profits of their deathly trade.
Related parties transactions
A review of note 8 to the financial statements is extremely instructive – and troubling. The note deals with related parties. On four separate occasions it refers to "fellow group subsidiary but not once does it identify any subsidiary. Okay, the accounting profession, often under pressure from the powerful business lobby is often forced to water down certain accounting standards. For all its lofty bromides, this company has said that it only discloses or complies with pronouncements that are imposed by law or rules. It follows then that the company is allowed to avoid disclosing information which serious analysis might require.
The real troubling part is the following table of Related Parties Transactions: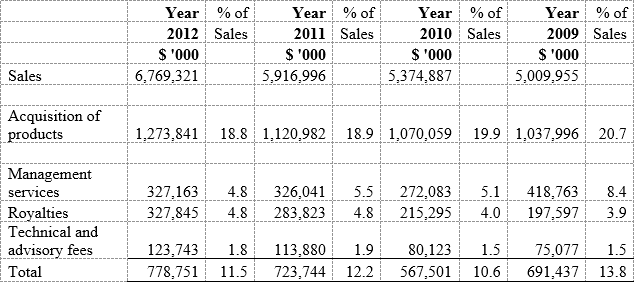 In Part 2 next week, I will be addressing this table in the context of a broader discussion on transfer pricing.